1.Instance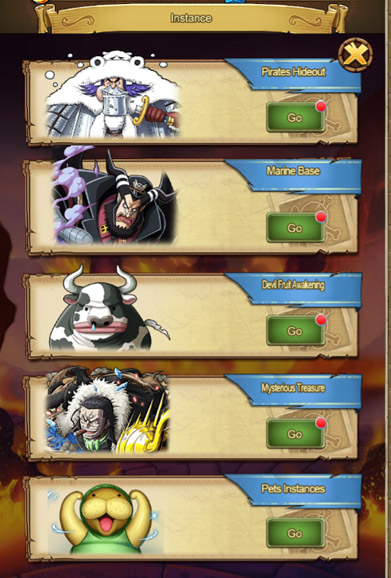 Instance includes Pirates Hideout, Marine Base, Devil Fruit Awakening, Mysterious Treasure, Pets Instances and Mount Instances. Raiding Instance costs Raid Voucher.
2.Field Boss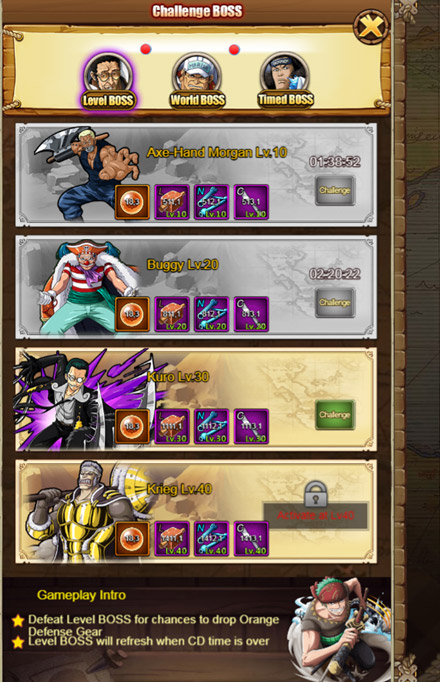 Level BOSS: Challenge Level BOSS successfully for chances to drop Orange Gear Shard that can exchange for Orange Gear in the shop. Level BOSS will refresh when CD time is over. Player reaches required level to activate corresponding BOSS for challenging.
World BOSS: Player of this server can join in World BOSS. Challenge BOSS level which are 10 levels above or below. Player have 5 challenge times daily, and BOSS will CD before refreshing. You can obtain Belly, EXP or Enhancing Stone through challenging BOSS.
Timed BOSS: . All players of this sever can join in Timed BOSS. Timed BOSS will be refreshed at set time. Player will obtain Timed BOSS battle rewards according to DMG Rankings.
3.Gear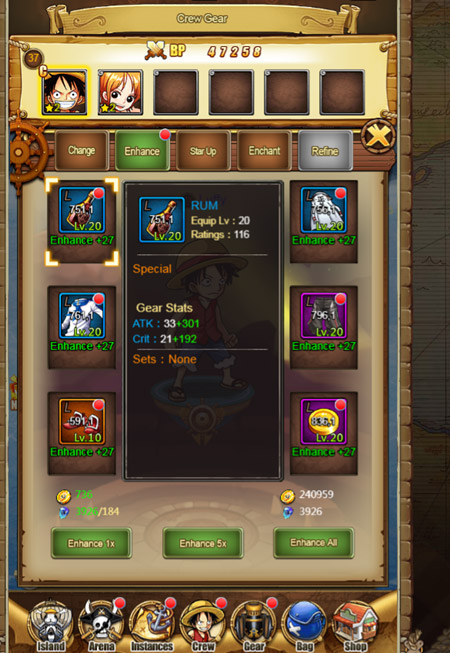 Enhance: Enhance gear by using Belly and Enhancing Stones to increase gear stats. Star Up: Star Up can increase gear stats, which can make player more powerful in battle.
Enchant: Enchant to increase gear stats, which can increase BP dramatically.
Refine: Reach Lv40 to activate Refine. More refining times means higher stats and BP.
4.Crew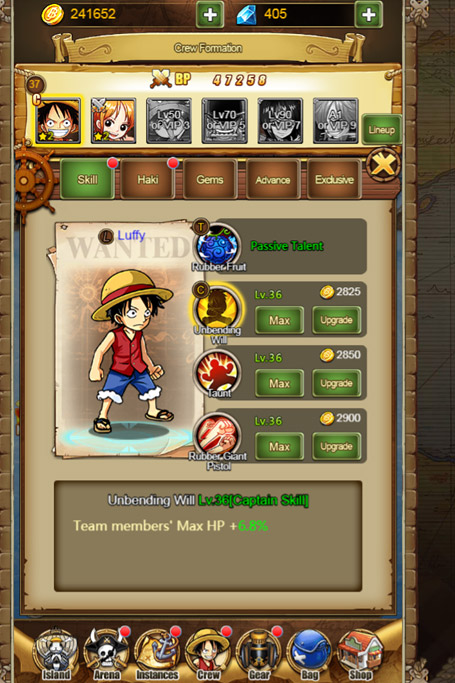 Skill: Different heroes have different passive talents and skills. Use Belly to upgrade a hero's skill can increase the DMG of the skill. Hero skill's max level cannot exceed character level.
Haki: Reaching required level can activate corresponding Haki, which can increase stats bonus.
Gems: Embed Gem to increase stats bonus. When synthesizing gems, there is a chance to obtain Perfect Gems.
5.Bag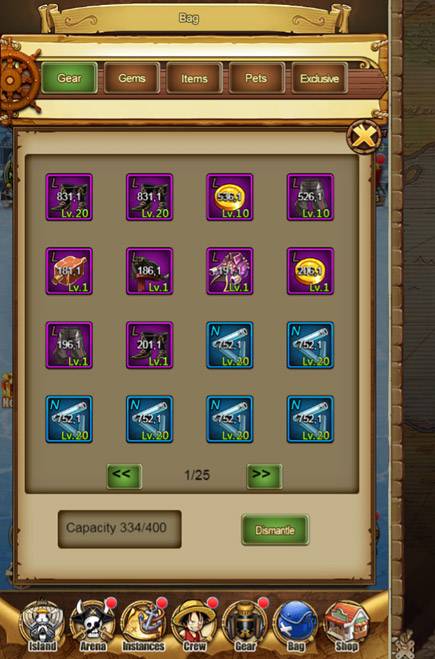 Dismantle: You can dismantle gear to obtain Enhancing stones and Gold.
Gem: Gems or Gem Shards in the bag can be synthesized into Gems.
Item: Can check item you obtained here.
Pets: The pet you captured can be checked here.
6.Arena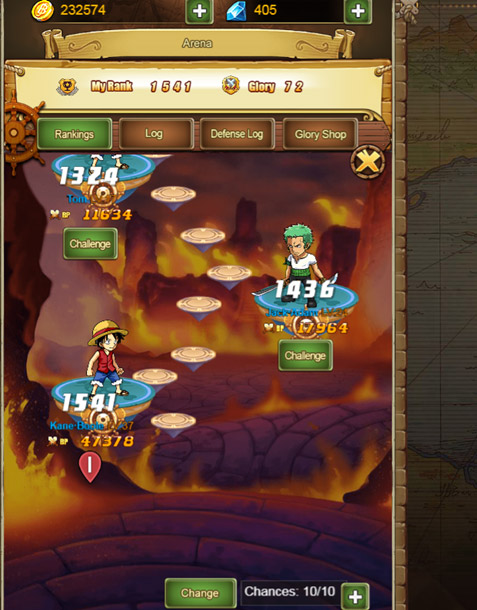 Player have 10 challenge chances daily, and can spend 20 diamonds to add 1 chance. VIP3 can purchase more chances. Player can check your challenge result in Log, and who challenged you in Defense Log. Player can use Glories you gained after victory in Arena to buy Captain's Gold in the Glory Shop.
7.Pets & Mounts
Each pet has 5 qualities: White, Green, Blue, Purple and Orange. You can synthesize to obtain higher quality or capture higher quality pets. You can only select 1 pet to join formation. Reaching required level to unlock Pet skill that can adds stats bonus.
Mounts: Mount skill unlocks at required level. You can only select 1 Mount to join formation. If you obtained a Mount you already have, will automatically become 200 Mount Shards.
8.Encounter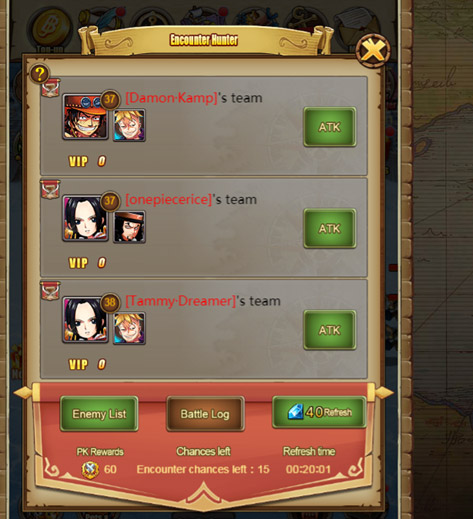 Can challenge and defeat at most 15 enemies per day. Encounters List will refresh once every 60 minutes with 5 enemies.
9.Daily Quests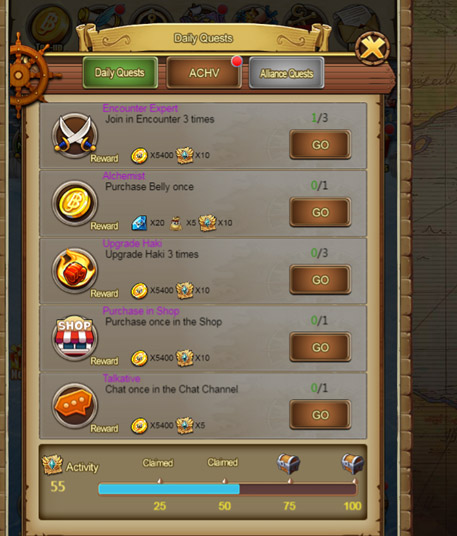 Complete the tasks in the Daily Quests to claim rewards. When the Activity points reach requirements, player can claim different Activity rewards. And player can claim rewards after finishing tasks in ACHV.
10. Alliance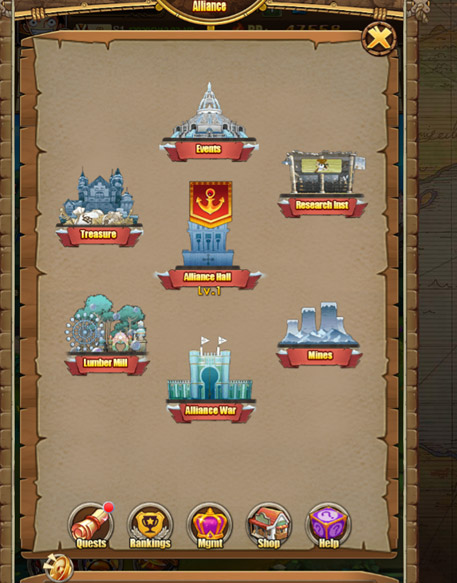 Higher Alliance level means more Alliance members. Each Alliance at most can have 1 Leader, a few Deputies and Core members. Completing Alliance Quests daily will obtain Contrib. And Alliance Funds. Alliance Contrib. are used in the Alliance drawings. When Alliance member leave Alliance, all Contrib. will be cleared. Each time activating Alliance BOSS will consume Alliance Funds. The functions of each building will be activated according to Alliance level. Leader must transfer the Leader position to other Alliance members before leaving the Alliance.
11.Ship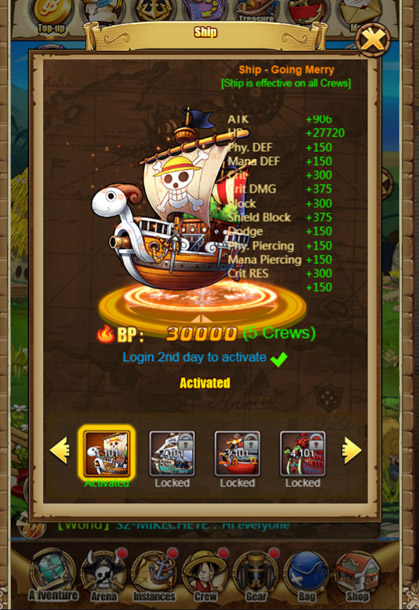 Ship can adds stats bonus greatly. Reach the requirement to activate corresponding Ship to increase BP greatly.
12.Treasure Hunt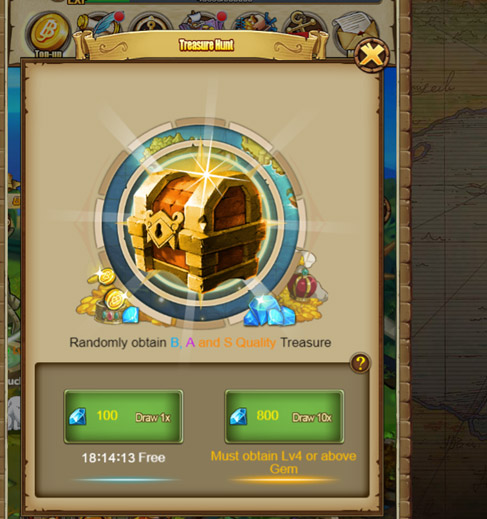 Spend Gem to have a chance to draw B,A and S Quality Treasure.